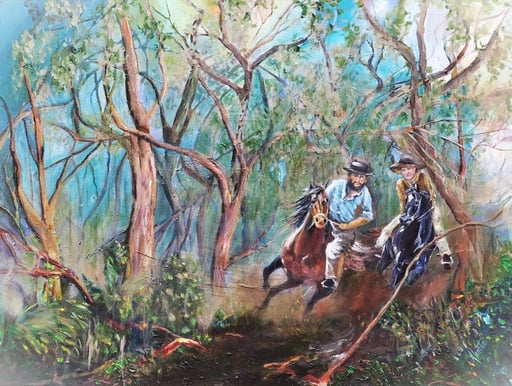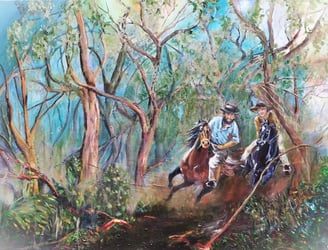 If you ask most Australians, 'what do you know about the bushranging era of Australian history', many will mention Ned Kelly and a few might also name Ben Hall. But as history shows, there are many other men who took to a life of crime back when our nation was made up of colonies. It started with convict escapees, known as 'Bolters' as they escaped and bolted into the bush, through to Australian born colonials.
These men, over the years, have become legends. Romantic symbols of daring and heroic opposition to the British system of our colonial past. The truth of the matter, in most cases, was vastly different.
There was one bushranger who was active longer than any other, his name was Fred Ward, also known as Captain Thunderbolt. He ruled the roads in the New England area of New South Wales. During his near seven years of highway robbery, he took a number of accomplices to aid in his 'trade'. What sets Captain Thunderbolt apart from all the other bushrangers through his almost seven-year reign, is not one of his victims was killed or even shot. It is believed also that he never shot a member of the police either. A police constable was wounded on one occasion, but it was attributed to one of Fred's off siders. Legend has it, Thunderbolt was even considerate to the ladies he held up, gaining the reputation as the 'Gentleman Bushranger'.
My great grandfather, William Monckton, was one of Thunderbolt's accomplices during 1868. For young Will Monckton, running away at age 13 and joining Captain Thunderbolt for a life of crime seemed like a better prospect than being abused by a cruel stepfather. For almost a year, he rode with the outlaw until he was eventually captured and sentenced to 6 years imprisonment, with 1 year of hard labour in an adult prison. He was only 14 years old.
What I have tried to do in Too Young to Hold a Gun is to take points of historical fact and endeavour to paint a picture of what it was like for William. I felt reading the history in the form of a novel was a more enjoyable experience for those not wanting dates and bland facts. This is my debut novel based on William Monckton, my great-grandfather. It is a fictionalised account told from William's perspective. It reveals, firsthand, the hardships of a life on the run and the challenges of returning to community life after serving time as a convicted felon.
Of course, I do not know what the characters of this book said, nor whether my account of their emotions is accurate. However, after conducting my research and following contact with the wider family of William Monckton, this is my best reckoning. It is also a tribute to the man who learned a hard lesson and spent the rest of his life as an exemplary member of society.
I have commenced William's story at his release from prison and follow him as he endeavours to fit back into society. Of course, he reminisces about his days with his friend and mentor, Captain Thunderbolt.
Reviews and comments from readers:
Bushrangers are a part of Australian history. While most of us have grown up with the legend of Ned Kelly, I knew very little of Captain Thunderbolt other than his name (I mean, it's a pretty legendary name). While I know the story of Kelly is often romanticised, I struggle to believe what I often hear and learn about these outlaws.

But who would have thought that there was a bushranger out there that avoided violence if he could? It goes against everything I know about bushrangers, but Captain Thunderbolt never killed a person during his seven years on the run. This is the book that sets the record straight on Captain Thunderbolt and his accomplice, Will Monckton. I had never heard of Will and it seems ridiculous that I hadn't. How has this story not been told in our history lessons?

This book has a staggering amount of research. While I am no expert in colonial Australia, this is such a vivid account of what life use to be like. I have family stretched out across where Captain Thunderbolt and Will rode, so I thought it was pretty cool to see that part of Australia come to life with history.
I also think back to where I was at age 13. I was just starting high school, socially awkward, shy and just so unsure of myself. I struggle to see and comprehend how young Will left his family to seek revenge on his abusive stepfather. I guess that just shows his determination and bravery. I know the times are very different but Will really was too young to hold a gun.

If you want to read more about colonial life and/or bushrangers, I implore you to read this book. This historical story is much easier and more interesting to read than academically heavy articles. You honestly won't regret it.

Random fact - I now know where 'riding shotgun comes from' (yes, I know I'm late to the party!). Thanks, Peter! INDEPENDANT BOOK REVIEWER: On the Same Page - Helena #onthesamepage_helena
I've read your book. Let me say from the outset, that being a historian by training I could probably be among the most critical of your readers. But I need not have worried. Nor you. Like I said, I've read your book. I think it is excellent. You've obviously put a lot of thought into the structure, being a much more complex one than the usual, straight forward chronology. It provides your book with a freshness and a dynamic. The amount of research that your narrative displays is staggering, and you very cleverly weave it into your storyline in a most unobtrusive way. It reminds me of the writing style of George Johnston, who was a journalist by training. In my opinion, that's a fine comparison to make. Your characterisations showed great empathy and thoughtfulness. Your description of Will's impressions of riding Atlanta in the Glen Innes race, just to give an example, gives the reader a vivid insight into what this experience must have meant to a youth who was still not much more than a boy. Again and again, your narrative shows a perceptiveness and warmth for the feelings of your characters. All in all, it was a grand journey through the pages of your book - just the way that every reading experience should be. - New England Historian - Peter Chambers
At the age of 13 Will Monckton fled the wrath of his violent stepfather. Seeking comradeship and adventure, he teamed up with notorious bushranger Thunderbolt. Because of myths created by previous authors, Monckton has always been something of an enigma. Not anymore. Peter Spencer sheds bright light on the truth. He takes us into the very heart and soul of the apprentice bushranger. We get to know the real Will Monckton very well. We empathise with his plight. And we become rather fond of him. - Kent Mao - Hon Director - McCrossins Mill Museum - Uralla
This is not just another Bushranger story! Peter has expertly woven factual accounts from history into his compelling story surrounding the life of William Monckton. With every detail, I felt that I was right in the middle of the story - as though I was seeing everything through William's eyes. The characters are well-developed and authentic, and every detail is thoughtfully incorporated and sympathetic to the times. I know that Peter has done a power of research including visiting many of the exact historical points described in the book, and it really shows. It's wonderful to have an author so devoted to relaying facts while also crafting a rich tale that readers cannot help but become engrossed in. It's Peter's first novel, but it reads like the work of an author who has published many books over many years. I thoroughly enjoyed reading this book, what a page-turner!!! - Dr Leigh Nelson
I really enjoyed your book. You have obviously done extensive research. I loved the way you developed the characters, scenes, weather and environment. The reader is able to be there with Will, feeling his pain, loneliness, but also the exhilaration of his successes and feeling that he, in time, deserved Fred's respect and reliance. I was convinced! - Narelle Fernance - Author
Just finished this remarkable story of young William Monkton, apprentice bushranger with Thunderbolt, the notorious and last real bushranger. A really good read by author, Peter Spencer. If you're interested in a historical novel, based on real life occurrences, go to pjspencer.com to order this book. - Shirley Lennon - Sunshine Coast Artist
Hi Peter, I love love loved your book, it was a good easy read and a 100% better than other Thunderbolt books written... Maggie Dillon
Hi Peter, Your book, well researched and well written. Entertaining and informative. Definitely a good read and worthy of any bookshelf in the New England/Northern Tablelands area. Due to the "novel" nature of the book as a narrative with the main character rather than a factual account only, it will also hold its own with readers further afield. - Darren Saylor
Hi Peter - Just wanted to let you know that I thoroughly enjoyed reading your book. You described the scenes and actions beautifully; the narrative flowed well; and, as we know the area reasonably well in which all the action took place made it that much more interesting. Great job! Kel is reading it now and he hardly ever reads a novel - anything and everything else, just not novels! - Di (& Kel) Roberts
Well I've read your book and the verdict is in I really enjoyed the life journey of Will it cut in and out a bit but I could see why and it was easy to navigate I've always been interested in Fred Ward He went to school in the same room I went to Sunday school at Wilberforce I'd like to think he made it to California and had a life over there So well done on your fine work Cheers Peter. - Rob Ferguson
Morning Peter you must have wondered whether I had read your book or not. I finally got time to read it, more or less nonstop the way I like to read. A very interesting book... well worth the read. You did a good job. If you add more to this story keep me in the loop please. - Marie Duncan
Hey Peter, Thanks so much for the books. They arrived on Tuesday arvo and am already enjoying a good read thanks to your creativity. I have a few good friends who live in the Armidale - Dorrigo region, so the topic of Captain Thunderbolt and a reasonable knowledge of the area certainly piqued my interest. Such a close family connection made it irresistible. Keep up the good work! Cheers, - Carlo
Reading this here book, Too Young to Hold a Gun, not a bad yarn, well written. I am quite enjoying it. The author has done a good job, well done. I will recommend it to all who will listen. - Kevin Miller
Peter Spencer took a lot of investigation and chased up year's of information collected to put this book together. It is a credit to him for producing such an informative and interesting publication. - Doug Mepham
Great book on the life of William Monckton, who rode with Thunderbolt, has just been released. Written by Peter Spencer it is one of those books you cant seem to put down . - Diane Archer
Hi Peter, I just finished reading your book last night. Have you done any writing before? You certainly express yourself well. I really like the layout of the book. The interspersing of Thunderbolt's Apprentice chapters with what happened afterwards. Kept it interesting and readable. I can see you have done a great deal of research, and I thought the addition of photos gave the story even more credibility. I am in awe!!! Well done Peter!!! - Bron Levy
After your visit to Moonbi Museum yesterday I took your book home and read it, I finished about 10.30. It was the best read I've had in years - didn't skip one page . congratulations on a splendid book. - Deirdre Keast - Moonbi Museum
I have read and reread your wonderful book. I have one question? Did William really take the name Thomas Saunders & why? My father was Thomas Saunders. My great great grandfather was Thomas Saunders (1802-1889) He was a convict who came to Abington after he was free. He died in Uralla. In 1864, he and wife Hannah Massey, had a son, Thomas Saunders at Abington. So, it would have been a familiar name to William. My brother, Ian Saunders wrote a book about Thomas Saunders and his descendants. Thank you for a wonderful book. - P Rollings
Wow! My daughter gave me your book as a gift for Christmas. I hung on every word. Captivated, as I rode with William through each day, month and then years. Your research is extraordinary. Your rural stations are in such detail. My husband and I have lived in Bundarra for 18 years and because of my Avon selling for 16 years I am familiar with most of the stations you mention. I have also worked as mail delivery for 10 of those years as well in and outside of Bundarra. Your authenticity with the pages is remarkable. I'm and avid reader, especially with local history. I sincerely hope I get to meet you one day and shake your hand, and have a coffee with you both. - Tanya Orchard
'Thank you Peter for an enjoyable reading of your debut historical novel. It has opened a new understanding and perspective for me of the New England High Country of New South Wales. We travel through this area yearly, and I can picture your great grandfather as a young bushranger and how he would have lived in this region. I have my own personal appreciation method of how a book I have just read has moved me, as after completing an excellent book I continue to remember and replay in my mind the main characters. This definitely was the case with Will Monckton in 'Too Young to Hold a Gun.' - Rodney Turner, Hahndorf, South Australia